The mic we used for Penrose has a very high quality capsule designed in consultation with Shure, and has on-axis frequency response of greater than 100Hz - 10kHz. It also features very good off-axis rejection to limit keyboard/mouse clicks and other background noise, and its pickup pattern offers -25dB of attenuation at 135 degrees.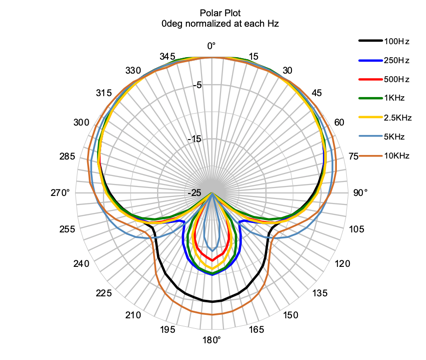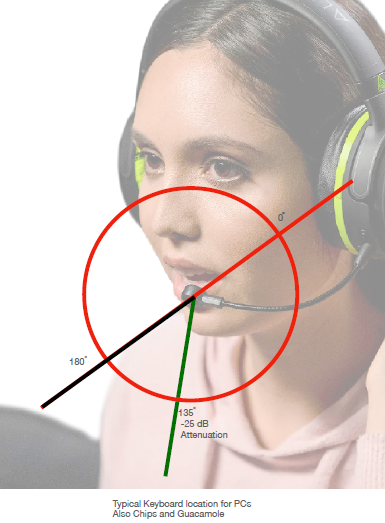 The mic will output its full frequency bandwidth over AUX/analog connection, with very little coloration or limiting of frequency response.
The 2.4gHz Wireless Adapter chipset is bandwidth-limited to offer 6.5kHz of frequency response for the incoming mic signal, which is suitable to capture the fundamental content of the human voice. This is the limit of current technology, and it was decided that the quality of the outgoing audio signal should take priority (we figured that was a no-brainer). What this means is that even though the Penrose mic offers extremely good frequency response, the wireless connection mode has to limit that by necessity.
The good news is, you can take full advantage of the mic's bandwidth by connecting through the AUX/analog cable. So when you want to add that extra sparkle to your voice, like to sing happy birthday to your mom, you can connect via the 3.5mm wired method. The rest of the time, the wireless connection should work well for most purposes.
You can hear some audio samples of both connection types on our Soundcloud page.
Mic setup and Use
The actual position of the mic near your mouth can be very important. For the best mic position, we recommend between 2 and 6 cm from the lower left corner of your chin, below your mouth. Experiment to find the position that gives you the best signal, while reducing breath sounds and external noises.
You'll be able to hear your own voice through the magic of a feature called Sidetone. You can use the Audeze HQ app to toggle sidetone on and off.
On most devices over wireless or BT, simply spin the Microphone Volume Control wheel to adjust mic gain. Over AUX connection, use your source device to control mic gain (the Mic wheel will have no effect).
For Xbox, the Mic wheel also functions as a balance control for chat vs. game audio. Just click, then spin the wheel until you have the desired balance between your two audio sources. These functions can also be controlled by the Audeze HQ app (see HQ section below).
You can also adjust the mic's level in the hardware and software settings of your chosen machine/platform/chatroom/thing. Check in with your teammates and associated AI interfaces to find the best level.
If you experience any strange mic-related anomalies when connected to your game, chat app or other software, please make sure you've adjusted any settings on your source device and in the software you're using. There are often semi-hidden settings that control level, noise reduction, and other features, so check your software guides and ask your co-pilots for advisement if you have trouble. Experiment with all the settings to see what works best for you, so you can get the most out of the Penrose mic. Remember that internet connection speeds can also affect audio transmission quality, so be sure you have a strong connection on all ends (including teammates).

Discord and most other VoIP software will also adjust depending on available internet speed, which may affect the overall quality and clarity of your calls. Poor internet connection speed will further adversely affect your mic and call quality. For tips on use with Discord, please see this article.
If you cannot find the droids you're looking for here or in our other useful support articles, please email us at support@audeze.com, and one of our friendly support reps will get in touch as soon as possible.