Greetings Traveler! Mobius has built-in, pre-programmed Equalization presets that are able to be changed at any time and in any mode. Operation of these presets is considerably simpler than piloting your starship through an asteroid field:
If you were to click and spin the Microphone Volume Control up or down, you would experience the transformative effects of a change in equalization profile (also known as EQ). Mobius currently has no fewer than EIGHT EQ profiles that have been pre-installed for your convenience, and they are outlined below. In case you accidentally change the EQ profile when you didn't mean to: there's no need for panic, as you can easily click and spin the opposite direction to switch back to the previous preset.
You can also change the EQ profile through the HQ app on your computing machine. To do so, just click on the Sound Profiles tab in HQ (with your Mobius plugged in via USB and turned on, of course), then click the profile name of your choosing, as pictured: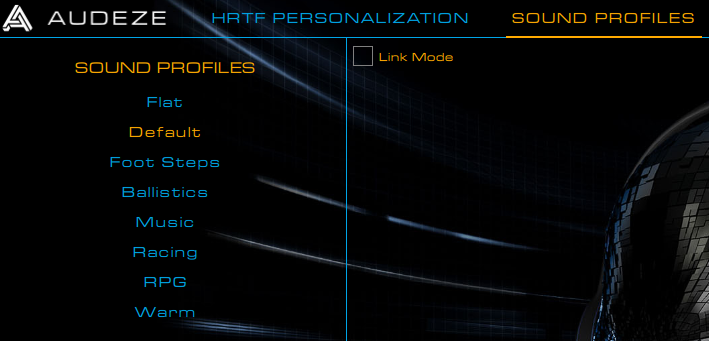 As promised, below is a list of the current EQ presets available in Mobius, which can be chosen as directed above:
Default

: This is our favorite preset, and is the one we labored over longest. It's tuned for best all-around sound and our guiding light was our very own LCD series' sound signature.

Footsteps

: We like this one when we want to know who may be sneaking up behind us. It's designed to allow better perception of approaching walkers, whether animal, vegetable or mineral.

Ballistics

: Boom! We hear this is the Hulk's personal choice, so he can hear things go Bang! Though technically, we do realize ballistics refers to the science of projectiles and firearms, or the study of the effects of being fired on a bullet, cartridge, or gun. We also believe this preset will enable you to best experience the firing sounds of said projectiles.

Music

: First prize goes to the cadet that can guess what this preset was developed to enhance. Anyone? Anyone? ... Bueller? ... Bueller? ... Frye? ....

Racing

: Start your engines! Whether your thing is Formula One, GTA, Mario Kart, airships, starships or pod racers, this will help you satisfy the need for speed!

RPG

: While we're not exactly sure what a Role Playing Game is

supposed

to sound like, we do hope this preset will help you achieve your quest. What is your quest? What is your favorite color? What is the airspeed velocity of an unladen swallow?

Flat

: This brings the tonal balance closer to the natural response of the headphones. We recommend this preset when 3D is off for gaming, movies or music. The Default preset will sound slightly warmer than the Flat preset. Consider yourself warned, and enlightened!

Warm: For this preset, we've cut the treble and boosted bass by a few dB, so if that field recording of the Crumple-Horned Snorkack sounds a bit harsh, dial this preset in to take the edge off.
If you have any additional questions regarding Mobius, please peruse the other support articles located in our Help Center. If you cannot find the answer you seek there, please feel free to contact us directly at support@audeze.com.