Greetings Traveler! We've often been asked about how Mobius can handle so many variations of the ubiquitous and mysterious "Bluetooth" protocol. Rest assured neither Mobius nor the Bluetooth protocol with actually turn your teeth blue. Mobius will support Bluetooth protocol 4.2, in 2.4 GHz ISM band, and SBC, AAC and LDAC codecs. Normal Bluetooth limitations apply. Below is a handy chart with reference to each known codec and Mobius' support for them, and instructions follow on how to connect with various devices.
| | | |
| --- | --- | --- |
| Platform | Codec | Support |
| iPhone/Android/OSX/Windows | SBC | Playback, 3D Audio, Head-Tracking |
| iPhone/Android/Windows/OSX | AAC | Playback, 3D Audio, Head-Tracking |
| Android | SBC | Playback, 3D Audio, Head-Tracking |
| Android | AAC | Playback, 3D Audio, Head-Tracking |
| Android | LDAC 44.1 / 48 KHz | Playback, 3D Audio, Head-Tracking |
| | APT-X, APTX-HD | Not Supported |
Latency is very low, even with high sample rates, but is device dependent. Normal Bluetooth resolution over SBC is 328 Kbps (max), while LDAC supports up to 990 Kbps for much higher resolution.
AAC: 250 kbps
SBC: 328 kbps
aptX: 352 kbps
aptX HD: 576 kbps
LDAC: 990 kbps
We don't have direct experience with transmitters or adapters, but there are many available from Amazon and other sources. Most anything will work to some degree, but something like this would be the best option we know of at the moment. The main idea is to look for one that offers optimization for audio playback with low latency, and to avoid anything that appears to be "low power" or "low profile" since those will be fairly compromised for audio performance.

How to connect to an Apple iPhone over Bluetooth.
Double click the Power button and Mobius will go into pairing mode. You will then hear the Gypsy Muse within say the command "Pairing." In your iPhone, go to Settings > Bluetooth. You will see Audeze Mobius 3D BT under Other Devices. Select your Mobius and you should then be connected.
How to connect to your Android phone over Bluetooth.
Simple Connection: For SBC or AAC connection, double click the Power button and Mobius will go into pairing mode. You will then hear the Gypsy Muse within say the command "Pairing." On your phone, swipe down the Notification shade from the top of your screen. Swipe down the Quick settings panel from the top of the Notification shade. Press and hold Bluetooth to open Bluetooth settings, then tap Pair New Device. Select Audeze Mobius 3D BT.
Bluetooth over SBC is 328 Kbps (max), while LDAC supports up to 990 Kbps for much higher resolution. Click here to read more about LDAC
Advanced Connection for LDAC: Go to Settings > About phone. Look for the "Android version" section of the page. The number listed in this section is the version of the Android OS your device is running. If you have Android 8.0 or up, you will have access to the LDAC codec.
The default LDAC setting in Android is 32 Bit / 96 Khz. In this Hi-Res mode, Mobius' head-tracking and 3D Audio are disabled. If you want head-tracking and 3D Audio, please select LDAC at 48 Khz, or AAC or SBC codecs.
Go to Settings > About phone > Build number. (On a Samsung Galaxy device, go to Settings > About device > Build number.) Tap Build number seven times. (Yes, we said seven. Android design is even crazier than Mobius!) Go back to Settings, where you'll then find a Developer Options entry in the menu.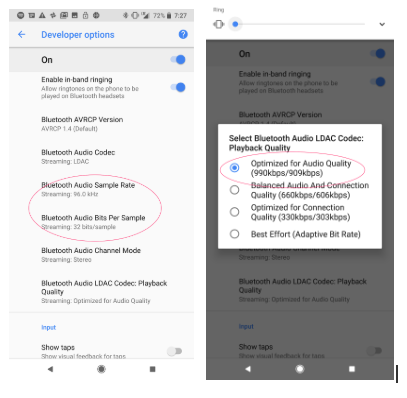 How to connect to Bluetooth on a Windows 10 Computer
First, open your Bluetooth and other devices under Settings:
Open Settings.
Click on Devices.
Click on Bluetooth & other devices.
Turn on the Bluetooth toggle switch.
Double click the Power button on your Mobius to put it in pairing mode.
On the Bluetooth device, see if the PIN matches with one shown in the Windows 10 Bluetooth wizard.

Click the Connect button to pair.

Click the Done button.
How to connect to Bluetooth on MacOS Sierra
Double click the Power button on your Mobius to put it in pairing mode and choose it from the Bluetooth status menu () in the menu bar, then choose Connect.

If the Bluetooth status menu isn't in the menu bar, choose Apple menu > System Preferences, click Bluetooth, then select the "Show Bluetooth in menu bar" checkbox at the bottom of the window.

Note: If you don't see Bluetooth in System Preferences, your computer doesn't support Bluetooth.

Follow the onscreen instructions to set up the device.
Select a Mobius as your computer's input and/or output device
Choose Apple menu > System Preferences, then click Sound.

To set up the headphone speakers as your output device, click Output. To set up the mic for sound input, click Input.

Select Mobius as the device you want to use in the list of devices.
NVIDIA SHIELD users: Please note that while BT connection to this device is possible, at this time 3D audio may be disabled by the source device due to its default settings. To enable 3D audio over BT, please follow these steps:
Go to Settings>Developer Options
Scroll down to view Bluetooth Audio Sample Rate
Change the sample rate to 48kHz
Once this setting has been changed, 3D audio should be enabled over BT.
Compatibility Notes: When you pair the Mobius with a mobile phone, PC, set-top device like AppleTV or even your Television, Mobius and the host device exchange information on what profiles and what codecs are supported (HSP, A2DP, AVRCP etc). Once this information has been exchanged the optimal settings are used.

Most host devices only support a limited assortment of profiles that might not be supported by Mobius. Each of these profiles also have version numbers (AVRCP 1.3, 1.6 etc.). Mobius supports HSP and AVRCP 1.6 while a host device might only support AVRCP 1.3. This kind of discrepancy can create a communication breakdown between the host device and Mobius which can prevent pairing, or the receiving of certain control functions sent by Mobius, such as volume adjustment.
Notes on BT quality for gaming, video and microphone use:
Due to limitations inherent to Bluetooth, our recommendation for the best audio quality on PC is to connect via USB. BT is inherently lossy, and we consider it a convenience feature rather than a primary connection mode. Additionally, BT does not support more than two channels of audio.
To clarify further, the issue with audio quality when using a microphone over Bluetooth is related to the bandwidth limitations of that connection type. When a microphone is not in use, Mobius will receive high quality audio over BT through SBC, AAC, or LDAC codecs. However, as soon as you initiate a voice call the device will switch to SCO or the Hands-Free protocol. This effectively downsamples the audio signal so that audio can be received and transmitted while still conforming to BT's inherent bandwidth limitations. Unfortunately, the result is much lower sound quality which makes BT less than an ideal option for simultaneous gaming and voice chat. If we might offer an analogy, it's sort of like trying to drive a Ferrari during rush hour traffic-- not really the intended use case for such a fabulous machine.
Here's an article which explains some of the limitations of BT with PCs in some more detail.
Here's another link to the Sennheiser Bluetooth database which may help you understand some of the other quirks inherent to the BT format.
And finally, here's some information on how to best configure your Mobius within your PC's Sound Control Panel when paired over BT:
When connected over BT, Mobius shows up as two separate playback devices within your Sound control panel - "Audeze Mobius 3D BT Stereo" and "Audeze Mobius 3D BT Hands-Free." The "Stereo" device, which has an icon depicting a pair of headphones without a microphone is your sound output device - this is the one you want to set as your "Default Device." The "Hands-Free" device, which has an icon depicting a pair of headphones with a microphone attached, is your sound input device and corresponds to your microphone input.
Here's a screenshot showing the correct settings on the Playback tab, with the input device inside a red rectangle and the output device inside a blue rectangle (note the input device is referred to as the Default Communications Device):
​
And here's another shot of the Recording tab, which is how you set up the Default Communications Device above:
​
Remember to click "Set Default" when choosing them so they show up every time you connect Mobius.
When no cables are plugged in to Mobius' ports, Bluetooth will become the default connection. If any other cables are plugged in (such as a USB cable for charging), you may need to double click the 3D Button to toggle through connection options until you hear the Gypsy Muse utter the "Bluetooth" command. Once successfully paired, and with Bluetooth selected as the input source, you should be able to use the magic of technology to listen and transmit audio through thin air!
If you experience any trouble in this regard and are certain that both your source device and Mobius are in the appropriate modes, we recommend you restart your source device and/or Mobius, then reestablish BT connection.
If you have more than one device currently paired to Mobius, you may need to release Mobius from the command of one device before the other device will be able to send/receive audio.
Note: For the highest possible resolution, we suggest accessing The Matrix directly, but be forewarned: "You take the blue pill—the story ends, you wake up in your bed and believe whatever you want to believe. You take the red pill—you stay in Wonderland, and I show you how deep the rabbit hole goes."
If you have any additional questions regarding your Mobius, please peruse the other support articles located in our Help Center. If you cannot find the answer you seek there, please feel free to contact us directly at support@audeze.com.