Maxwell Xbox comes with an integrated Dolby Atmos license that will automatically be active any time you're using the headset. Enabling Atmos is easy and only takes a few moments.
PC Setup
Here's a quick video on how to enable Atmos for PC
To break it down:
- You'll first need to install the Dolby Access app for PC.
- From the Dolby Access app, you'll want to run the Headphones setup process and follow the on screen instructions, making sure "Game- Audeze Maxwell" is set as the default device.
Setting this from Dolby Access should automatically enable Atmos on your PC, but if you already have it installed and need to turn it on manually:
- From Windows -
Open your Windows Sound settings (right click the speaker icon in the lower right corner or go to Settings > System > Sound).
Select the audio device "Game- Audeze Maxwell"
If Dolby Access is already Installed, choose "Dolby Atmos" from the Spatial Audio drop down list (Windows 11). If it has not been installed, you can click "Get more spatial sound apps from Microsoft Store" and search for Dolby Access.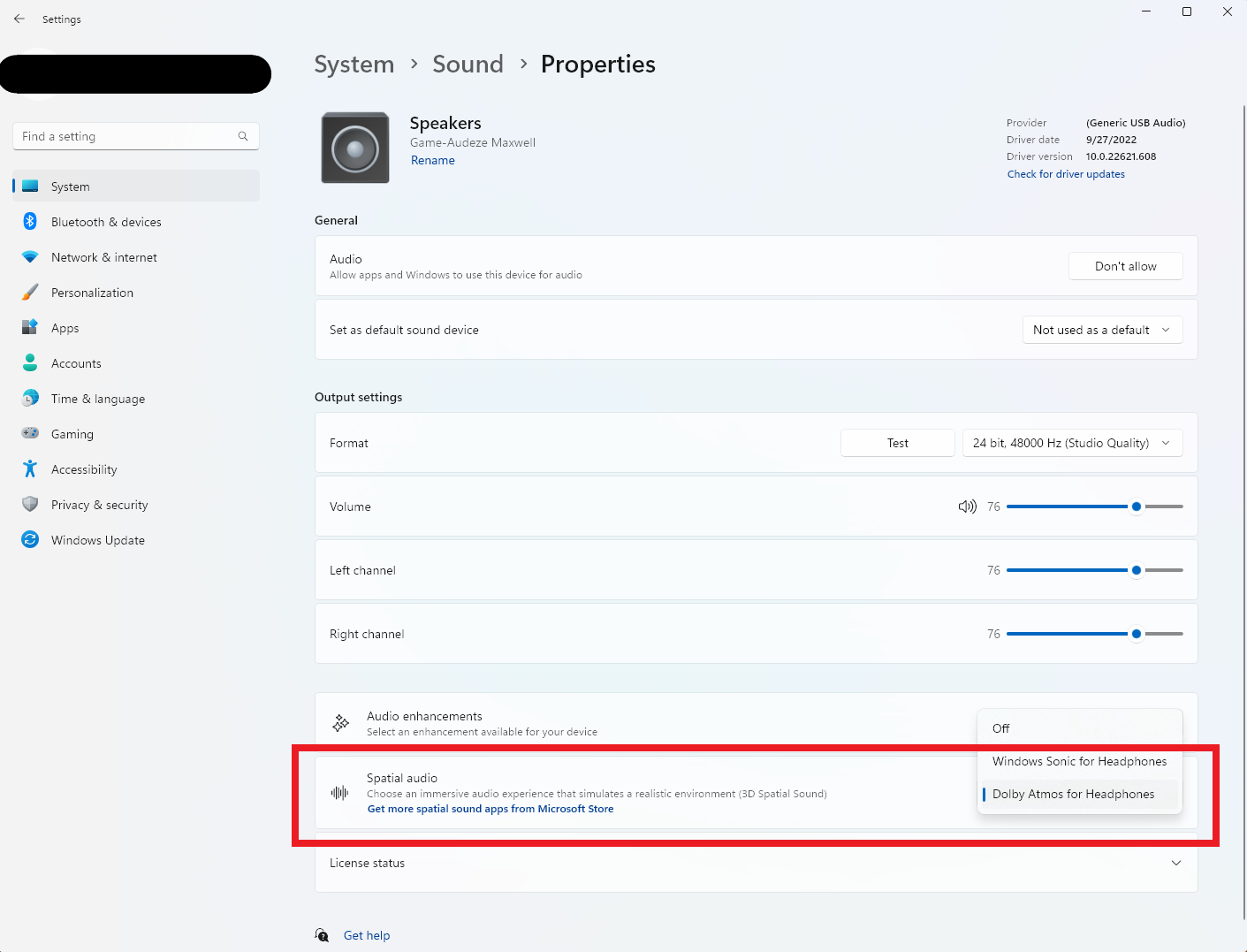 Xbox Setup
- Install the Dolby Access app via the Xbox store.
- Press the Xbox button to open the guide and select
- Profile & system > Settings > General > Volume & audio output.
- Under Headset audio, choose the Dolby Atmos for Headphones option in the Headset format drop down menu.
In Game Setup
For the most part, you'll want to leave your in-game settings on headphone mode (if available) or stereo if there is no headphone specific option. You do not want to use a 5.1 or 7.1 mode as they are not compatible with Atmos for headphones (these options are for surround sound speaker setups).
You can find a list of games that are mixed for Atmos here. These games will generally have a separate in-game option to enable Atmos (assuming you've already enabled Atmos on your PC through the Dolby Access app).
There are lots of options to customize your sound via the Dolby Access app, but we recommend leaving things standard until you're used to what your Maxwell can do and tweaking your preferences to your liking later, as the Maxwell should sound exceptional without additional tweaking.