Maxwell features an on-board game/chat mixer wheel for use on compatible platforms. Maxwell's Game/Chat balance works differently depending on what Maxwell is connected to.


Xbox:
For Xbox, the game/chat mixer is integrated into the console's party chat feature and will work out of the box. Simply adjust the game chat mixer dial up or down to set your desired mix.
Note this is ONLY for Party Chat, and not IN game chat. In game chat will still come from the main audio source.

PC/Mac:
For PC and Mac, the chat mixer wheel uses two endpoint audio devices to separate the game and chat channels for individual control.
These audio devices can be selected as the primary or secondary audio devices using your machine's audio settings.
Adjusting the game/chat wheel on your headphones or in the app changes the relative volume levels of these two endpoints, meaning that you can make the chat channel louder or quieter compared to the game channel by scrolling the wheel up or down.
The dual endpoint method of game/chat mix is available on PC and Mac platforms on all connection methods except 3.5mm AUX.
On other platforms that don't support two simultaneous audio outputs like PS5 or Nintendo Switch, game/chat mix will have to be adjusted manually through system settings on the source device (see Xbox and PS5 Setup sections for more info on platform specific setup).
Windows Setup

On Windows, there are various ways to change what sound device is controlling specific aspects of Windows, programs, games, etc. However, to simplify it down, we've chosen the good old, sound control panel method of changing the main audio device, followed by some examples on how to adjust specific programs to use the secondary channel for Chat purposes.
(Note: These instructions are when using the Maxwell through the USB dongle, or USB wired/cable connections. You will have to repeat these steps if your Maxwell usage varies between both dongle and USB wired modes.)
Go to sound settings (either via Windows search bar, or right clicking the sound icon on the bottom right of the taskbar).


Go to the sound properties (on Windows 10 it'll bring you to the classic sound panel window as mentioned below. On Windows 11, you'll find it by clicking on more sound settings at the bottom of the sound settings window, which opens up a classic style sound panel.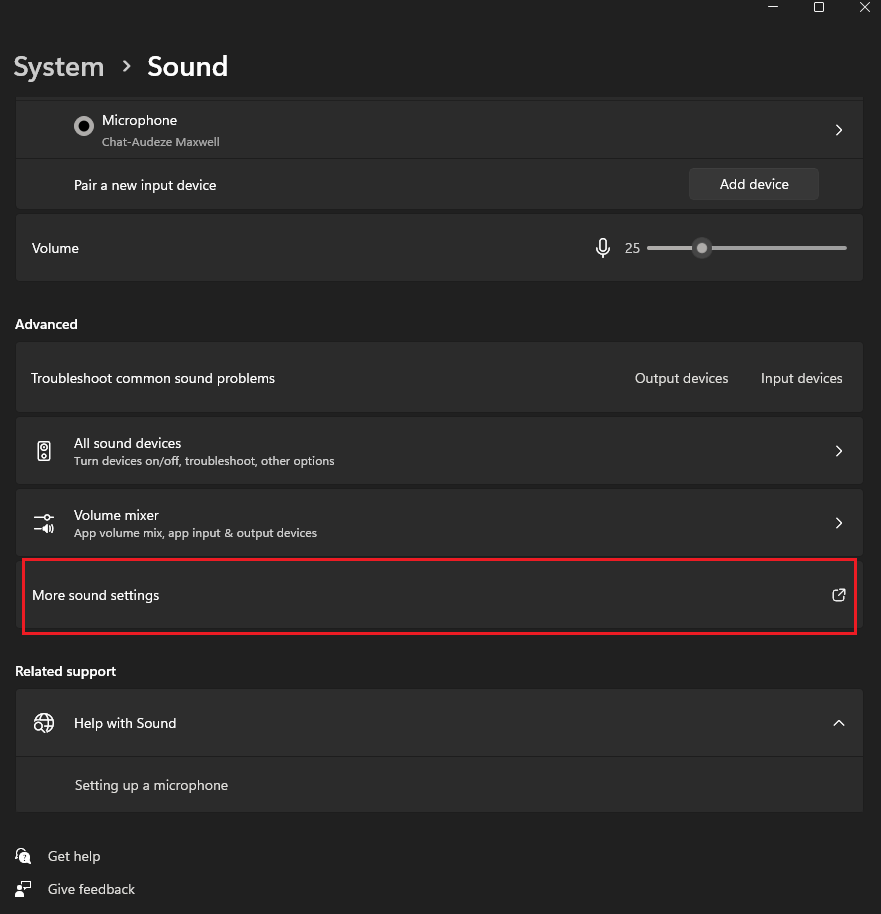 Here you'll find your list of sound devices and tabs for Playback, Recording, and a few others which aren't important here):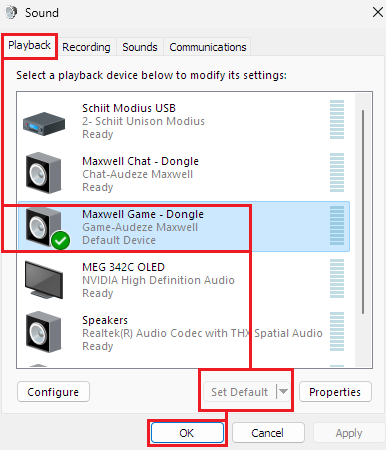 You'll want to:
1. Be on 'Playback' tab
2. Click on Game - Audeze Maxwell
3. Set as Default
4. Hit OK.
This means that the Maxwell's Game channel is now the default main audio device in your system.
You'll then need to set your Maxwell's "Chat" channel to be your default communications device. This will allow your PC to switch between the game and chat device separately and utilize them as different sound outputs.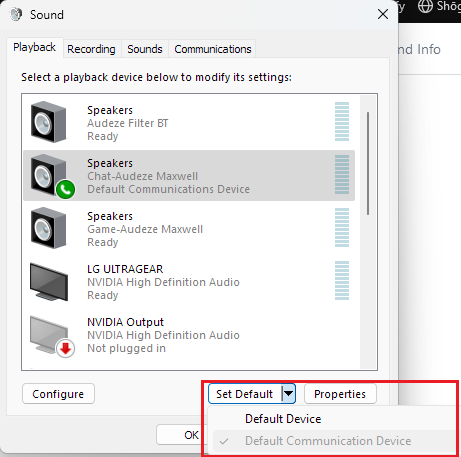 In that same window, if you click on the Recording tab, and set 'Chat - Audeze Maxwell' as your microphone, this will ensure your both Maxwell microphones (internal and boom mic) are the main microphone device on the system.
Setting Maxwell Chat Channel For Chat Programs (i.e. Discord/Skype/Etc)
Setting up Maxwell's Game as the main audio device is just one part of the equation, and doing this will make all audio be piped through the main Maxwell Game audio channel, which you do not want for chatting purposes. Depending on your chat program of preference, you will have to go into the program's sound settings (on a per program basis) and enable "Chat - Audeze Maxwell" as the sound output device, as well as their input device (the microphone). Here are some examples below:
Discord: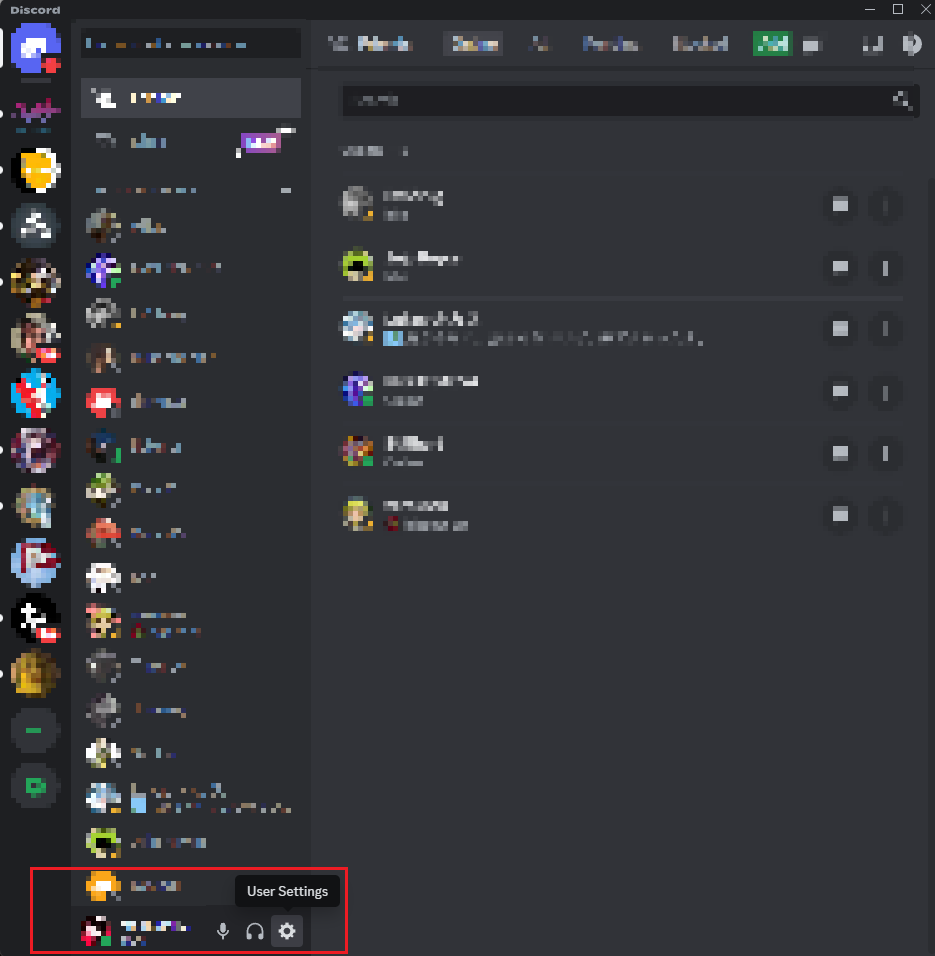 On the main Discord windows, you'll want to click on the cog 'User Settings', go down Voice & Video, and change the Voice Settings Input and Output Devices as Chat - Audeze Maxwell.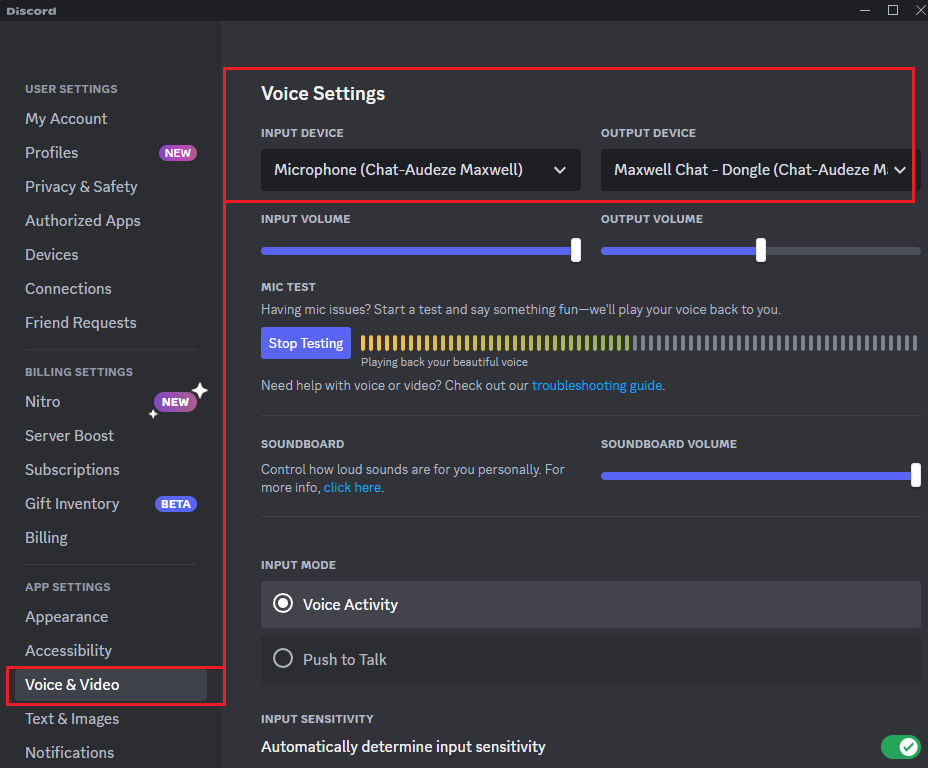 This will make Discord audio be fully piped through the Chat side of the Game/Chat Balance on Maxwell. Note that as you made the Game - Audeze Maxwell the main audio device, everything except Discord (in this instance) will be piped through the Game side of the Game/Chat balance. So you'll be able to balance out the volume between Discord (Chat), and the other sounds in your PC (Game).
A note on Discord mic quality:
We recommend disabling all audio enhancements in the Voice & Video window on Discord, as this can conflict with Maxwell's internal mic processing, and degrade audio quality.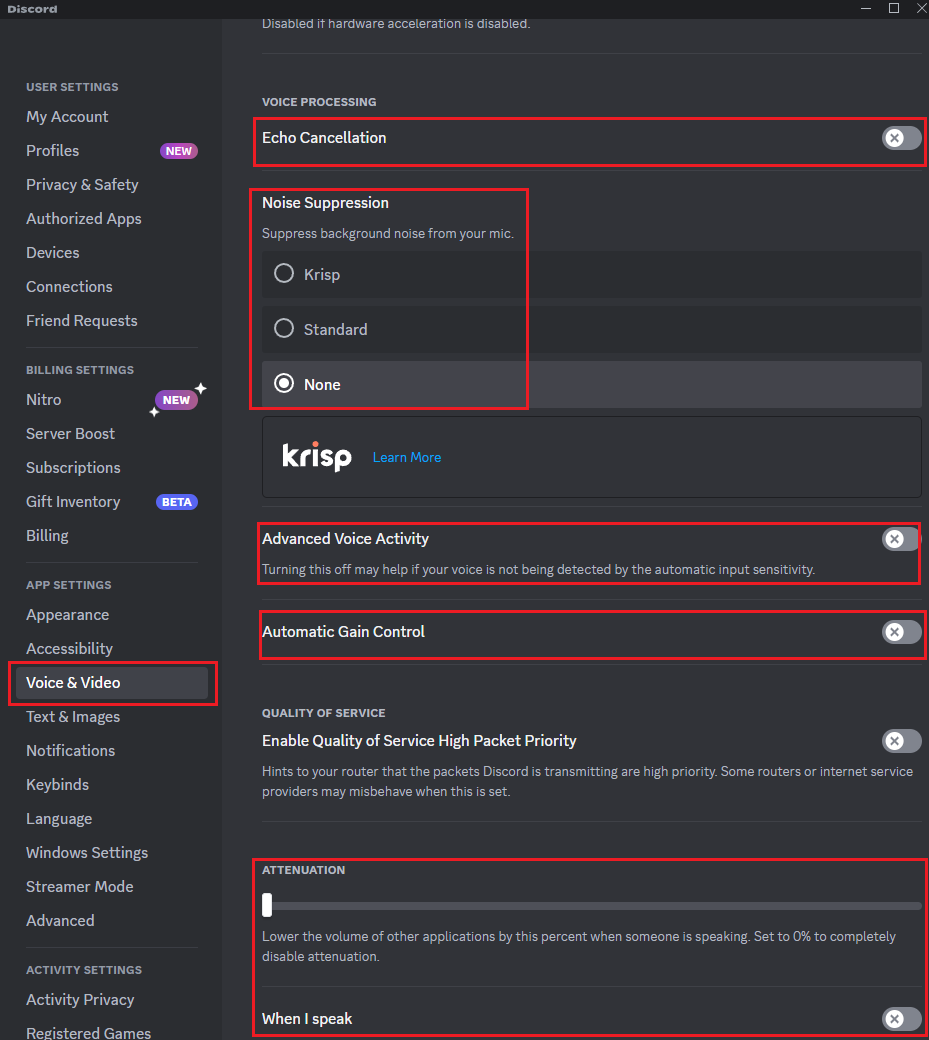 Other programs:

Much like Discord above, most other VoIP programs (Skype pictured below) must be set independently of the main audio device, in order to adjust Game/Chat balance between the program in question and your main audio.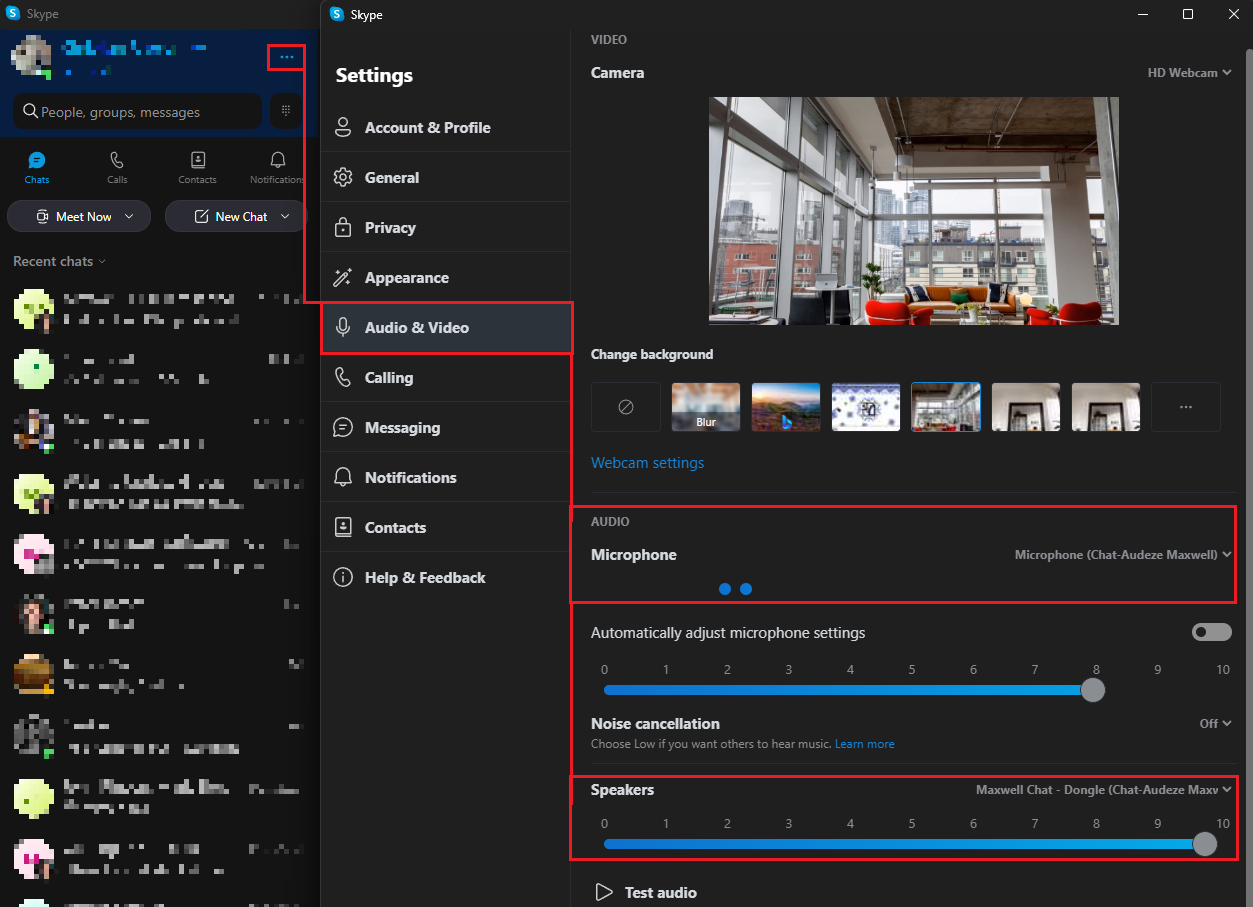 The main takeaway is to set the specific program's audio settings as 'Chat -Audeze Maxwell' in their input (the microphone) and output (their incoming audio) settings.
If you are getting no audio in either side (but device is on and connected): Make sure your Game/Chat balance isn't set fully towards either Game or Chat (50/50 is recommended if you're not actively using this feature). This can easily be changed via the scroll wheel or through the HQ app.