Audeze Hub is the all-inclusive way to control your FILTER from your PC, Mac, or mobile device. You're also able to perform firmware updates and check current versions through the app.
The Mac and PC app looks nearly identical, with most controls being in the "FILTER CONTROLS" tab at the top (NOTE: you must have your FILTER plugged in via USB to control FILTER settings on PC at this time):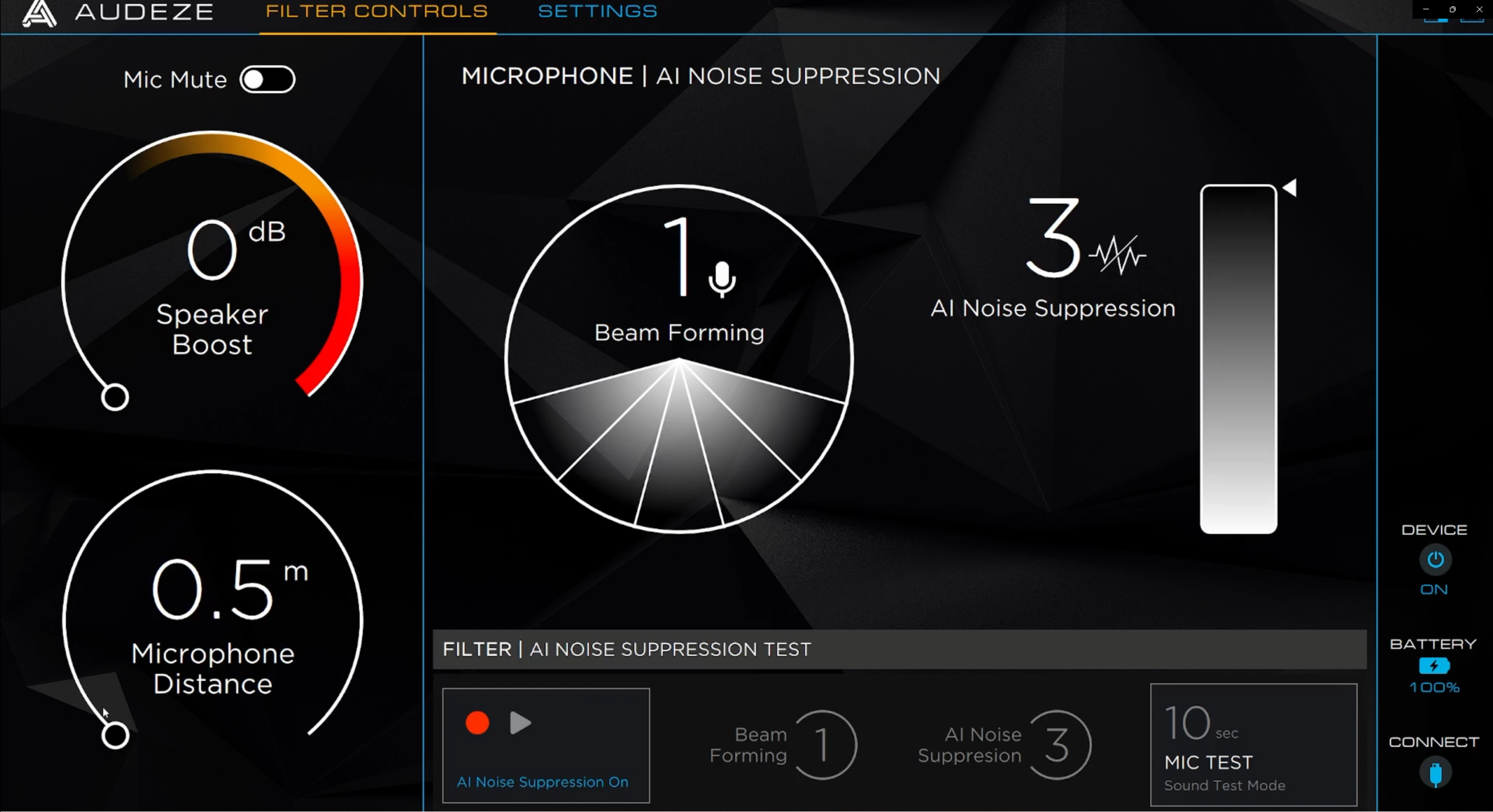 You have control over more advanced functions in the settings tab: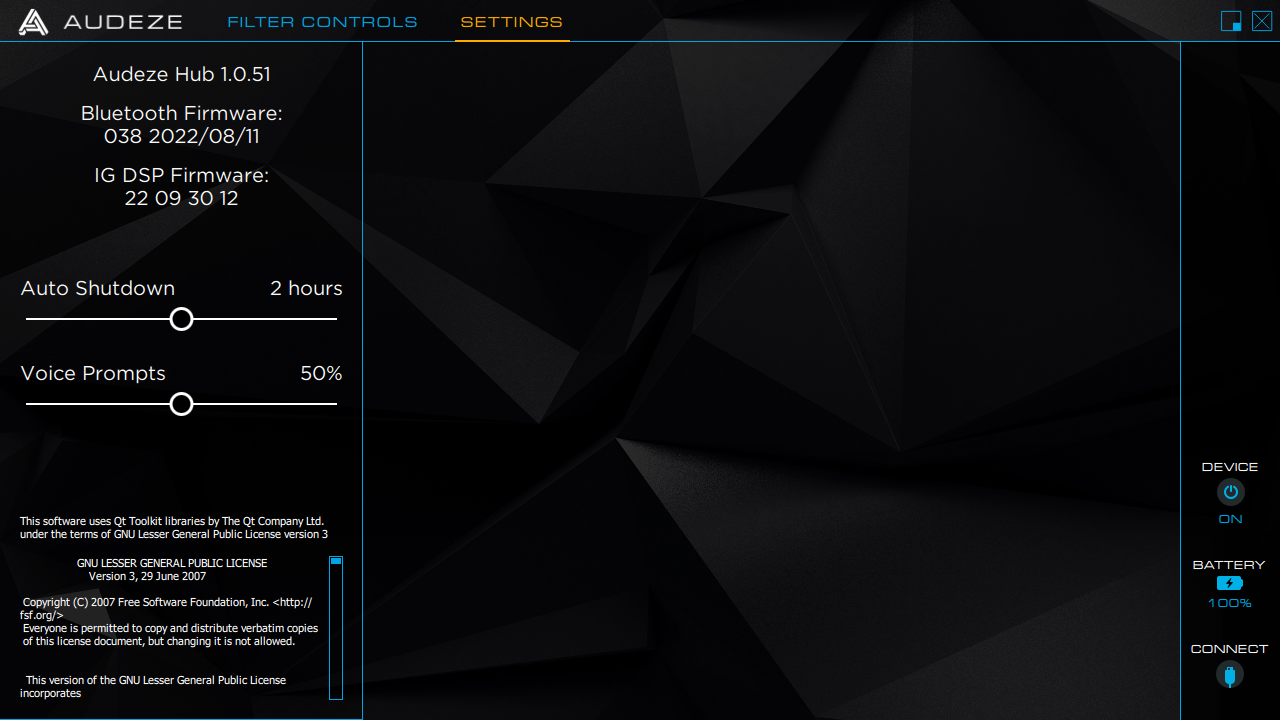 These settings can be changed by clicking the corresponding icons on screen.
In the Mobile version, it's broken down into three menus (left to right) the Controls, Boost, and Settings menus: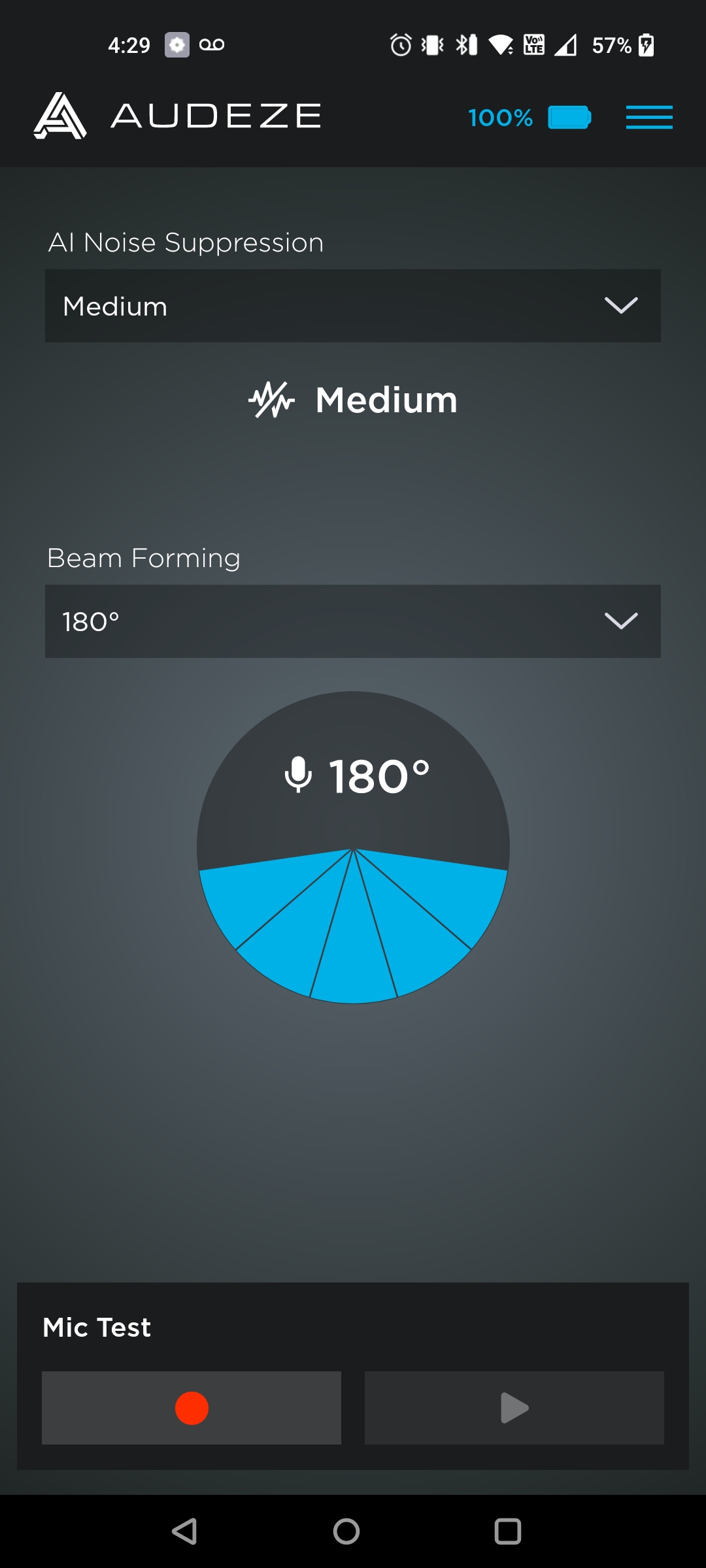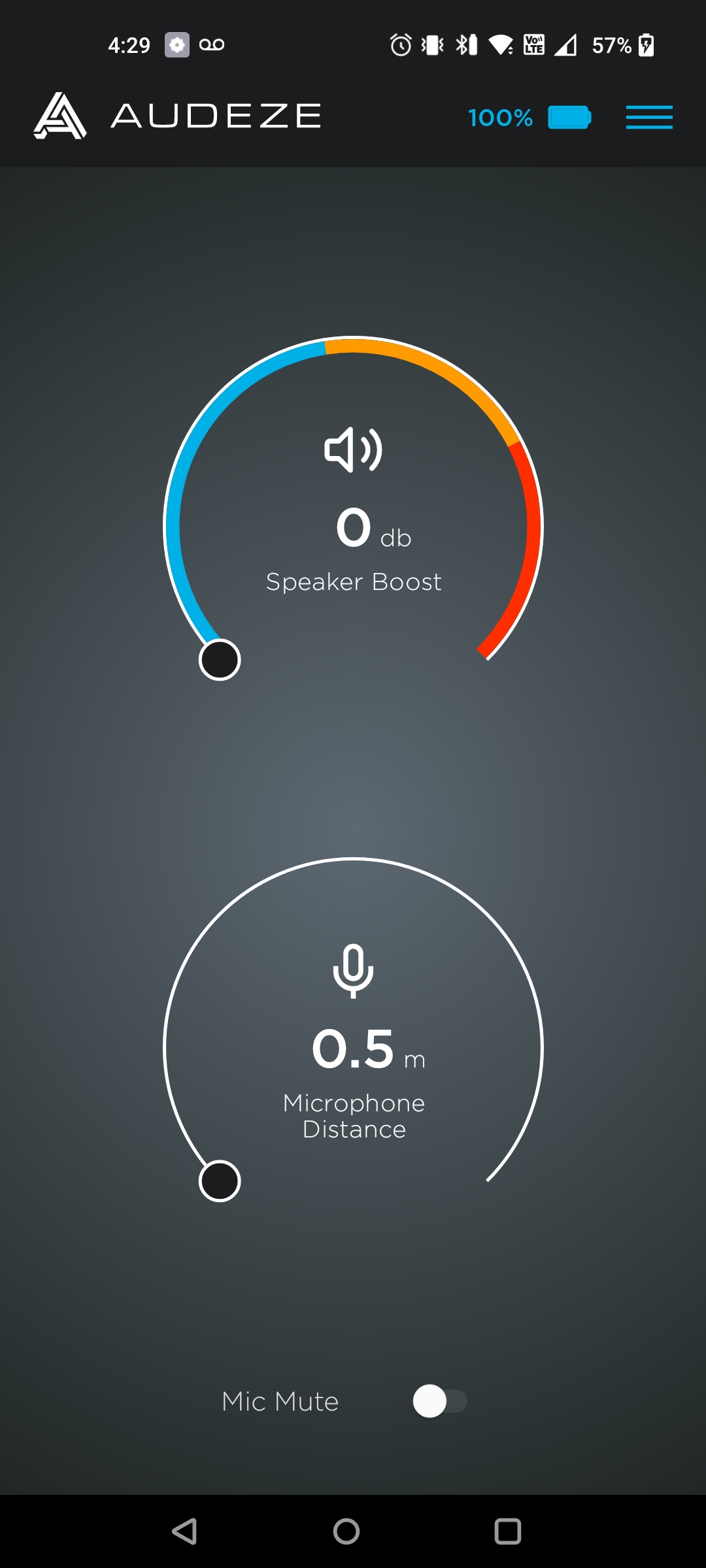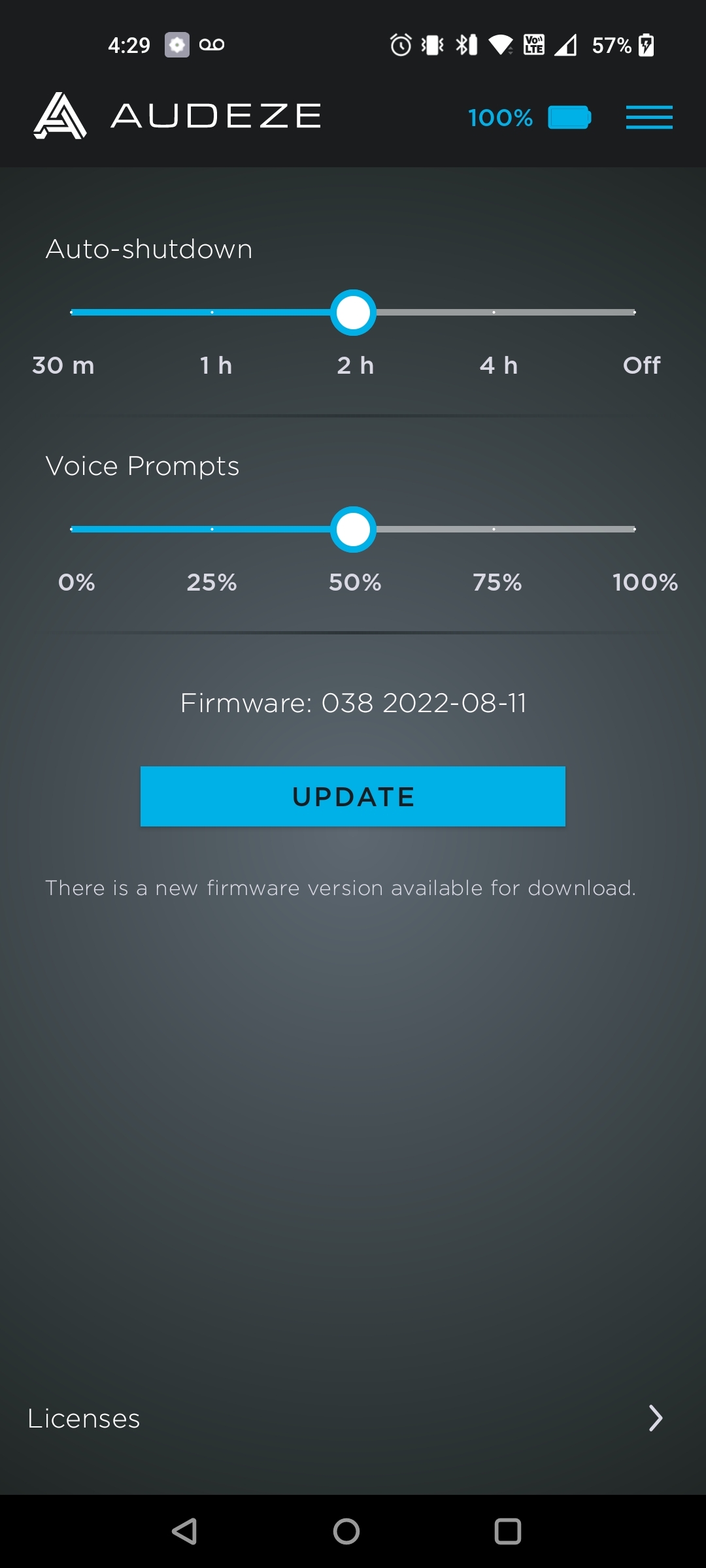 The Android and iOS versions perform identically, however, the menus are located in the top right drop down menu on Android, and across the bottom in iOS:
Android: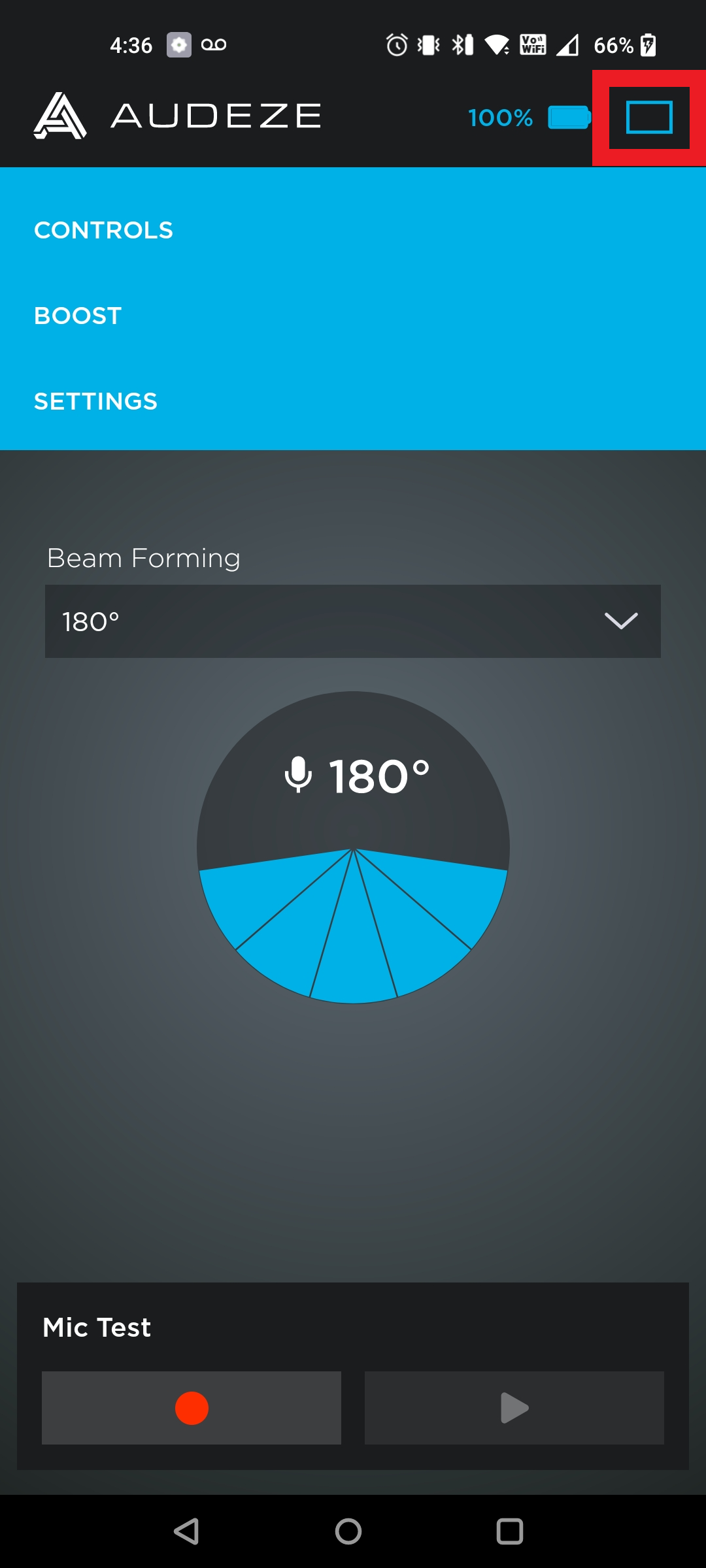 iOS: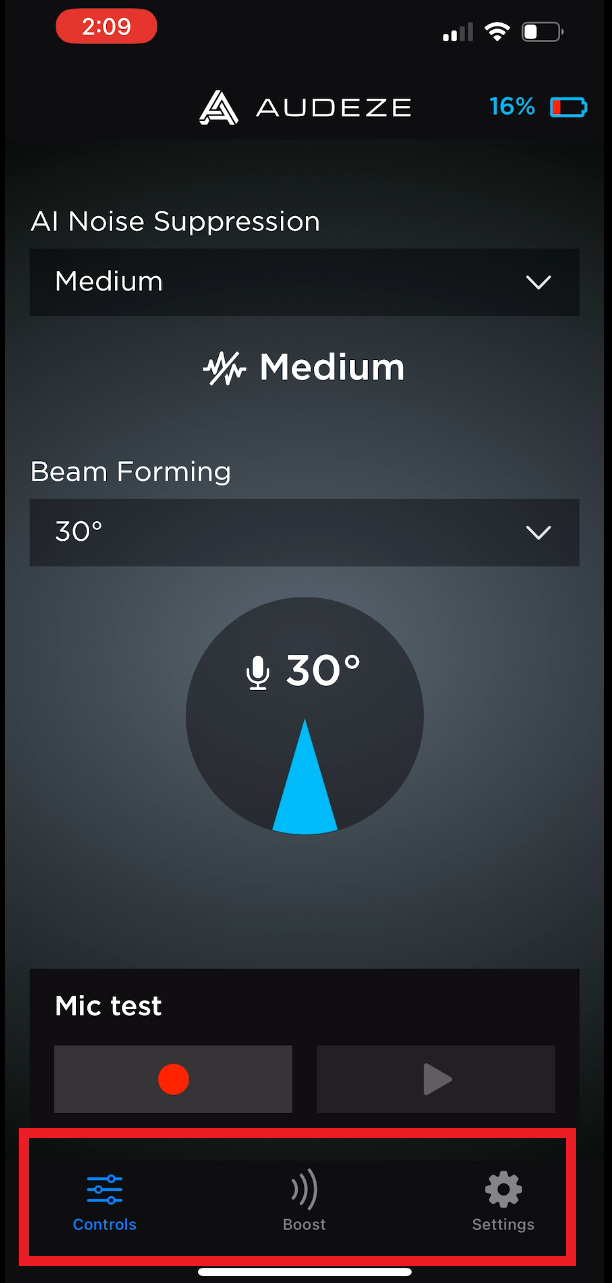 Here's a short rundown of each function and it's use case:
Microphone distance:
Mic distance is used to adjust how far FILTER picks up a mic signal. This should be set corresponding to how far away the average speaker is from FILTER. This setting helps with voice quality for multiple speakers. For example, if you're in a conference room and your speaker is in the middle of a table, you should set the mic distance as the average value.

Speaker boost:
Speaker boost can be used to pump the volume of your FILTER further than normal. Speaker boost should only be used after your system settings and FILTER volume levels are already at maximum (using the + and - buttons or your system settings). Speaker boost can cause clipping and distortion if set too high. Additionally, using extra power through speaker boost will deplete your FILTER's battery faster.
For additional speaker boost info, visit our help page here.
Mic Mute:
The mic can be toggled on or off from this function. Please note that using this control on a Windows machine will toggle the system mic function on or off as well.
Beam Forming:
The Beam Forming setting can be used to set the preferred angle of mic pickup.
A narrow setting would be best for single speaker, whereas a setting of wide or off can be used for full 180 or 360 degree mic pickup. This is most useful for conference room settings.

For additional Beam Forming information, visit our help page here.
AI Noise Suppression:
The AI Noise Suppression function determines the level of active noise filtering.
To ensure the highest quality of voice transmission, this should always be set to the lowest effective level. This level can be determined using the AI Noise suppression test (detailed below). A setting of 1 is best for light filtering, such as normal household noises. Higher settings can be used for more advanced filtering like in public spaces.
AI Noise Suppression Test Recording:
FILTER's noise suppression can be tested using the recording function to determine how much noise suppression is needed at any given time.
To make a test recording, just click the red circle to begin recording, you'll see a mic test timer count down from 10 on the right side. Your current test settings will be shown to the right of the record button.
Once you've started the test, just say a few words in a normal voice as the timer counts down. You do not need to wait the entire 10 seconds. Once it's finished or you click the white square to stop the recording, you can play back the test using the play button to the right of the record button. This will give you a snippet of your own voice so you can determine if your noise suppression settings are adequate for your current environment.
Auto Shutdown:
In the settings tab, the auto shutdown slider can be adjusted to tell the FILTER how long it should remain on in between calls when it's not actively in use. This setting is automatically saved and will change
Voice Prompts:
This slider will change the output volume of the voice prompts (power on, power off, etc.)
Firmware Update:
When firmware updates are available, you will have the option to update your firmware through the app under the "Settings" tab (current versions only allow this update through the Android and iOS version, with an update to the Mac and PC versions coming soon).
Updating your firmware is as simple as clicking the "UPDATE" button when it appears and letting the program run. Do not power off or un-pair your FILTER during updates.